Welcome to the Existence Establishment Distro. Please be aware that we are willing to trade distro items. Click on a letter to go to the section.
!See our order section for shipping prices!
[#][A][B][C][D][E][F][G][H][I][J][K][L][M][N][O][P]
[Q][R][S][T][U][V][W][X][Y][Z]

$9
V/A
7HZ
CD
[Groundfault Recordings]
7hz, founded in 1995 by Scott Arford, has continued to function as San Francisco's premiere venue for noise and experimental media. A space where new combinations of image, sound, and experience can be realized. Since its inception it has had the privilege of hosting performances for many of the world's most interesting, progressive, and challenging sound and media artists. This CD represents some of the best recordings by each of the 3 people that live at 7hz and make it the wonderful place that it is. Randy has appeared on Ground Fault (GF009 - RHY Yau "The Hidden Tongue"). Scott is also no stranger to Ground Fault (GF003 - Radiosonde "Meter Sickness"). Michael Nine is better known for his work under the name Death Squad. This is the fourth collaborative CD between Randy Yaus Aucultare Reseach label and Ground Fault Recordings.(Only 1 copy remaining).

$10
V/A
A Reassuring Voice on the Television
CDR
[Hermetique]
Featuring tracks by Propergal, Post Scriptvm, Dusk of Hope, Sea-Green Series, Old Iron Fence, nEGAPADRES .3.3., and Radiodrama. Propelled by a telluric force "A reassuring voice on the television" offers, in the way of a phonographic developer, an aural vision of an unhealthy landscape left to itself, a foretaste of the end of time. A world with spectral colours leading the listener in the depths of despair. A frightening sound panorama, a musical affliction without any concession and definitely a cinematographic one. You are now on to build up your own view on earthly purgatory or of its ante-chamber. However that may be, only a reassuring message will remain at the end inviting you to wait peacefully in the still of the night ... Delivered in a sleek looking DVD case with inserts and full-color artwork.(Only 1 copy remaining).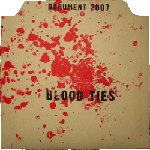 $4
V/A
Blood Ties Document 2007
CDR
[Existence Establishment]
A collection of noise and experimental music created in 2007. Tracks from sold-out limited releases, live sets, outtakes, etc. Ranging from minimal ambient and experimental, to power electronics, to harsh noise. Featuring: Anapthergal, Keplers Odd, Content Nullity, Oubliette, Fixture for Toxins, Lackthrow, Noisewerrrrk, Norther Machine, +Dog+, Mystified, and Salvation for Sale.
$8
V/A
Comrades In Lost
CD
[Semema Industrial]
Comrades in Lost is the multimedia / audio CD, which is created with an aim to introduce people to latvian industrial music. Sound material presents each musician's search in the field of industrial music, what comes from a personal belief and experience. Soundscape shows influences of martial industrial, power electronics and IDM, but can't be placed in a frame of a particular style. The sound remains individual and satiated, with a touch of experiment, but not experimental. The multimedia is an artist's (Girts Korps) subjective perception of the industrial topic. It is developed as 3D acoustically visual space with gates and rooms, which can be navigated, creating impression of a real space. The CD contains the program with the modular structure, which includes feature of dynamic content update from the Internet website of Semema. After the activation, the program connects to Semema server to check any update availability - if there are any updates available, the program automatically downloads them and add to the existing base part. In such way the existing virtual space is being upgraded with the latest available content. In case there is no Internet connection available, the program will provide access only to the data available on the original CD.
(Only 1 copy remaining)

$5
V/A
Drone Season Volume 3 - Music For Mountains
CDR
[Brise-cul Records]
(Another KVLT instalment featuring Sky Burial, Chronicle of Lemur Mutation, Magneticring, Robert Horton, Woment in TRagedy, Crotch and WRNLRD!)
(Only 1 copy remaining)

$5
V/A
Tel Aviv Aftermath
CD
[Topeth Prophet]
An eclectic mix of experimental music from Isreal, released on the label run by Chaos As Shelter. Features Grundik, Chaos as Shelter, Agnivolok and more.
(Only 1 copy remaining)
$10
V/A
The Unforseen Perversion of Truth
2xCDR
[Witchhouse Records]
It's here. The long wait is finally over. With countless hours of work K.E.Lunsford and his wife E.A.Lunsford definitively finished the construction of a mammoth release. WitchHouse Records proudly brings to you "The Unforeseen Truth Of Perversion". Tracks from Xiphoid Dementia, Beta Cloud, Avent Guardian, Forming Meteors, Ultra Milkmaids, Church Of The Apocalypse, The Crowned Heads Of Europe, The Slaughtered Lamb, Mongoloid, Dissecting Table, Cranial Surge, Laggardrone, and Wound. And also on the special limited edition 3rd. CD-R more tracks by Beta Cloud, Ultra Milkmaids, Uranium, Laggardrone, CoffinBirth, and Husere Grav. Fans of noisecore, soundscape ambience, doom, and the undescribable will be intrigued to find that the level of talent here is unmeasurable.

Only 1 copy remaining.